Hose and Tube
Stainless steel tube – seamless and manufactured to ASTM A269 316
Neoprene fuel hose - single textile braid reinforcement and smooth black neoprene cover complies with British standard BS Au108/2-L4/C4/R for fuel hose. Designed for under bonnet use with push in fittings secured with worm drive clamps or similar fittings in smaller sizes i.e. Carburettor hoses, automatic transmission cooling.
Stainless Steel braided fuel hose - suitable for commercial fuels and fuel mixtures up to a maximum of 50% Benzol. Hose is suitable for E10. It is less bulky than the BS Au108 compliant hose above and has the same application..
Brake Fluid Resistant Hose -use for gravity feed to master cylinder from remote reservoir. Special rubber liner with black outer cover.
Kunifer seamless copper alloy tube - for brake lines where flexibility is not required. The tube may be bent by hand or using a tool where tighter radiuses are required. A flaring tool MUST be used to form seats. Mainly used for brake and clutch lines where, due to its small size,the weight penalty is not too significant. Also quite suitable for fuel and oil lines where weight is not a big issue.
Acetylene tubing - red rubber tubing 5mm bore with 1.5mm wall for acetylene gas burners.
TFE hose - Extruded Teflon tube with stainless steel single wire braid cover. A high pressure hose with excellent fluid compatibility and a stainless steel cover that is resistant to corrosion and abrasion. Due to its very low ratio of expansion to pressure, this hose has proved to be ideal for use on flexible lines in competition vehicle braking and clutch systems providing a desirable hard pedal with reduced travel. If subjected to continuous flexing the stainless-steel strands can eventually fracture and could penetrate the Teflon liner - vehicles should be regularly inspected for signs of wear.
Care must be taken in fitting to ensure that the hoses do not contact any moving part under conditions of extreme suspension travel and/or full steering lock. We do not offer any guarantee of their suitability for any purpose beyond usage on off road vehicles under conditions of regular inspection. No responsibility can be taken for any damage, injury or loss resulting from their use. Manufactured in the UK and compatible with Aeroquip and MOCAL fittings. Also offered with a black PVC skin for added protection and easy cleaning. Skin must be cut back to take fitting. For use with suitable reusable or swaged on fittings.
Understanding Hose Fittings and Sizes –
AN specification refers to 'dash' sizes, arrived at by multiplying the nominal bore of the hose by 16, hence ½" hose is -8. This Aeroquip system was extended to cover British hose and fittings. Most threads including JIC (now called SAE 37°) & Metric are defined by the outer diameter of the male thread. However, BSP and NPTF are defined by the bore of the hose they fit, hence a ½" BSP fitting fits a ½" hose. Adaptors are used to deal with variations.
A guide to commonly used hose sizes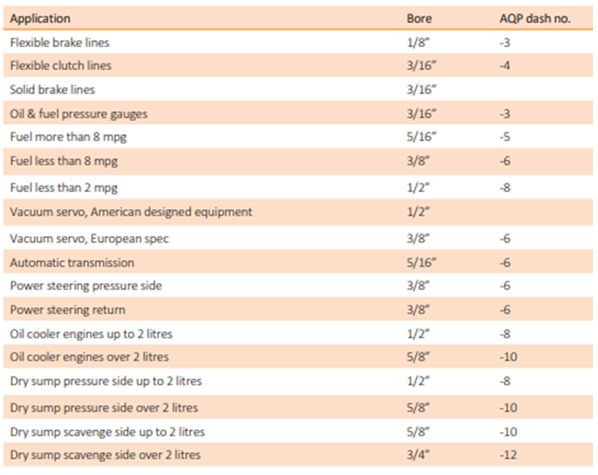 For engine oil cooler and dry sump applications where hose run is over 3 metres, go up a size.