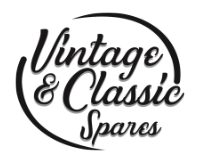 For over 25 years Flexolite has supplied both trade and retail customers with specialist fuel, oil, brake, clutch and water system components for cars, motorcycles, stationary engines, commercial and agricultural vehicles from the 1920s to the 1990s. We offer a wide range of products, significant experience and access to a wealth of technical information and specialist suppliers.
In 2020 Flexolite was acquired by Vintage and Classic Spares, adding its automotive fluid handling expertise to Vintage's 50 years' experience of the supply of parts and accessories to thousands of pre-war and post-war motoring enthusiasts worldwide. With its expanded range of products, Vintage and Classic Spares is dedicated to helping owners look after their much-loved classic vehicles and keeping them on the road. The Vintage and Classic Spares group includes Vintage Supplies, the Complete Automobilist, SVC, Classic Engine Parts, Small and Classic Ford Spares and Ford Aquaplane – please visit our other websites using the links below.
At our new warehouse near Malvern, we now hold extensive stocks of rare and obsolete parts for vintage and classic automobiles, as well as many newly made items for a wide range of applications. In addition to the thousands of products we stock and list on our websites, we also have access to many other parts via our extensive network of suppliers – so if you can't find the part you need, please email with as much detail as you can of your requirement and we will make investigate availability for you. We would be pleased to help you, whether classic car owner, vehicle restorer or mechanic.
Finally, we are always looking for new products to supplement our range, so if you supply parts that you think may complement the products we offer, please get in touch with us.