What we supply
Classic Engine Parts holds a large stock of engine parts for vehicles dating back to the 1920s. While many parts are newly manufactured, many are increasingly difficult to source 'new old' stock. Our older parts were originally made by leading manufacturers including Glacier, Vandervell, Clevite, Tranco, TRW, Hepolite, Wellworthy, AE, Glyco, Payen, Willmott and others. While all parts supplied will of course be usable, due to the age of some items, they and their packaging may not be pristine and some may require limited fettling by the customer. Parts in less than perfect condition are priced accordingly, considering their rarity also, and continue to offer a cost effective solution for engine reconditioners and owners working to keep their classic and vintage vehicles going. We are always looking for additional stock to offer our customers, so if you have a collection of pistons, bearings, valves etc that you no longer require and would like to sell then please get in touch. We also buy surplus obsolete stock from manufacturers of the items we list – so are keen to hear from suppliers who may hold surplus stocks of parts for vehicles from the period we cover.
Product preparation
On receipt of your order, we will fully inspect the items requested and prepare them for dispatch. Should we discover that the part is not suitable or damaged in some way, we will inform you immediately and advise you whether or not we can supply a suitable alternative. If we are unable to do so, we will cancel your order – no money is taken from your card at the time of order (we only verify card details) and you will only be charged for goods when they are dispatched. We will endeavour to ship goods within 24 hours of order, though where certain items require more involved preparation, then this may take up to three days, depending on order volumes and workshop activity. On receipt of goods, we advise customers to inspect them carefully, taking care to avoid damage - to bearing faces in particular, in order to satisfy themselves that the goods meet their requirements.
Part Numbering and Interchange
An explanation of our part numbering system is included below We have adopted the part numbering systems of the major manufacturers of the period; using our own where a comprehensive scheme is not available. In addition to a lead part number, we also list product by other manufacturers' part numbers where they interchange – particularly for Main, Big End and Cam Bearings, Thrust Washers and Small End Bushes with both Glacier and Vandervell references. We also include new and old reference numbers for some parts, where they were renumbered by a manufacturer, e.g. Oil Seals and Gaskets by Payen. The part numbering systems used are explained in more detail on the individual product pages, above the part number search facility.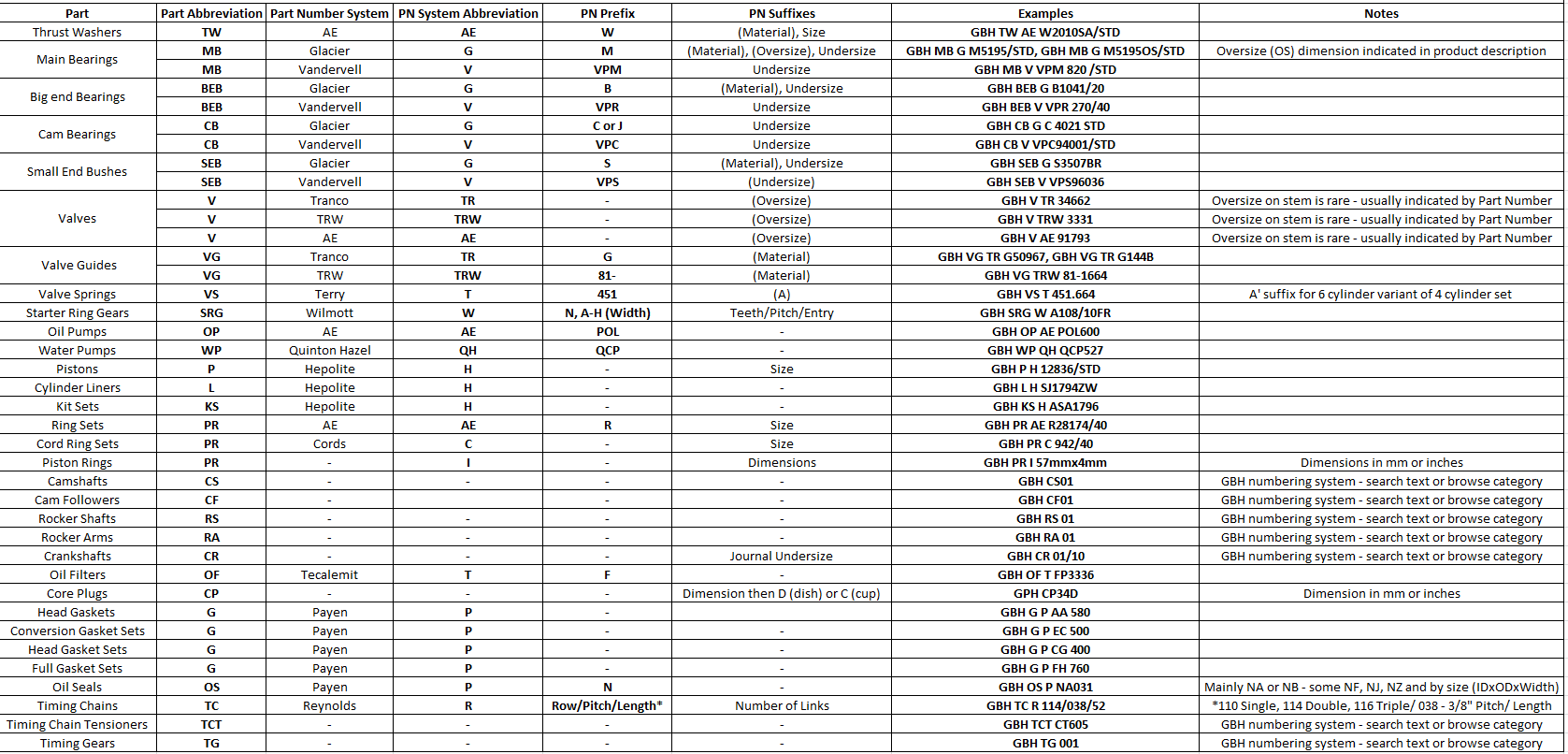 Part Selection and Fitting
While we have taken care to identify part number interchange, reproduce dimension information and allocate the correct part numbers to vehicle and engine applications, there may be occasional errors in the data and we cannot accept responsibility for incorrect selection or fitting of parts. If you are in any doubt regarding parts selection, interchange or suitability for your application please email us for advice or confirmation and once in receipt of your parts, please confirm they are correct for your application before fitting. Never undertake machining work (grinding cranks, boring cylinders etc.) until you have received your parts, taken accurate measurements from them and confirmed their suitability for use.
FAQs
What condition will the part supplied be in?
Many parts are in as new or newly remanufactured condition. Others may be less pristine, though no part will be supplied unless it is fully useable. The condition of parts is reflected in their advertised price, considering their rarity also. If prior to shipment it is apparent that the condition of a part - with very limited stocks - is not as expected, then you will be informed and the price of the part may be revised prior to invoice.
Do piston sets come with rings included?
Unless specifically described as a naked piston, all pistons are pre-fitted with piston rings or supplied with a ring set as well as gudgeon pins and circlips. If any part is missing and can't be sourced (e.g. a gudgeon pin) you will be informed prior to dispatch.
How long will it be until I receive my parcel arrives can I get next day delivery?
Depending on any preparation time required for the part ordered - or whether a part needs to be ordered in - it may be up to three days before parts are dispatched. Where possible, we will endeavour to ship parts either on the same day - were ordered in the morning, or the next day - where ordered in the afternoon. Time in transit will depend on the carriage service level selected, customer location and carrier performance - which is outside of our control. Please see [Stock & Delivery] for further details.
How are carriage costs calculated?
Carriage costs are calculated in accordance with the details in Stock & Delivery
How can I return goods?
You may return unwanted goods (in the condition they were supplied - unused and undamaged) for a refund. You must advise us of your intent to cancel your order and return the goods within 14 days of their receipt. Once you have informed us, you have a further 14 days to return the goods and we will issue a refund within 14 days of receiving the goods back. If we are not at fault in the supply of the goods, then you will need to pay for the return postage - insuring the part for its value in case of loss or damage – and we will refund you the value of the part excluding the cost of carriage to you. If we are at fault in the supply of the goods, we will issue you with a returns note to cover the cost of carriage back to us and we will refund you the cost of the part as well as the original cost of carriage to you.
Where are you based?
We are based near the Three Counties Show Ground, by Near Hanley Swan near Malvern. Please see the map on the Home page or the Contact Us section of this website. You are welcome to visit our sales counter (open Monday to Friday 9am to 430pm) to see products and receive advice on your purchase.
Can you ship outside of the UK?
Yes, we ship worldwide - as part of Vintage and Classic Spares, we dispatch hundreds of parts from our warehouse every day to motoring enthusiasts all over the world.
Which payment methods are accepted?
We accept payment via Visa, Delta, Switch and Mastercard on our website or for telephone orders, subject to conditions. We can also accept payment by Paypal, where that is prearranged by email and quotation, as well as pre-payment by cheque or bank transfer.
What other parts can you provide for my vintage/classic car?
As part of Vintage and Classic Spares we offer a wide range of parts for your vintage or classic car – please follow the links below to see our full range:
| | |
| --- | --- |
| | Vintage Supplies is the leading specialist manufacturer and supplier of parts, fittings and accessories for the restoration and maintenance of vintage and classic vehicles - featuring many unique and specially commissioned items |
| | The Complete Automobilist was established in the 1960s to offer high-quality veteran, vintage and classic car parts for the restoration of all older vehicles including lamps, mirrors, aeroscreens, helmets, horns, gauges, electrical, suspension and fuel system parts. |
| | Small Ford Spares – supplying a broad range of parts for Ford and Thames side valve vehicles built between 1932-1962. The Small Ford range also includes parts for the overhead valve Ford 105E and 123E models |
| | Aquaplane tuning equipment; renowned during the '50s and '60s for enhancing road and competition engine performance of Ford side-valve engines. |
| | Classic Ford Spares expands on the Small Ford range to cover the Consul, Zephyr, Zodiac, Corsair and Cortina Mark Mk1 models. |
| | Stafford Vehicle Components – supplying high-quality lights and accessories for specialist sports cars, hot rods, kit cars and a wide range of classic and vintage vehicles – featuring bespoke lighting and wiper systems, screens, steering wheels, mirrors, fans, servos, electrical accessories and gauges from many leading brands. |
| | Classic Auto Bulbs is a specialist supplier of auto bulbs and accessories for vintage and classic cars, motorcycles, scooters and commercial vehicles. In addition to offering over 500 types of Incandescent and Halogen bulb, we also have a range of 200 types of LED bulbs that provide LED replacement and upgrade options for all the main vintage and classic bulb fitments. |
What should I do if I can't find the part I'm looking for?
If you are unsure about the part reference you need and can't identify it from our product descriptions and various search facilities, please send us an email listing vehicle Make, Model, Engine details (reference number, cylinder bore, CC) and Year as well as any other information that may be useful e.g. a photograph of the part, key dimensions etc. Depending on the parts required and their age, it may be necessary to reference multiple books and this can be impractical to complete in real-time on the telephone. Upon receipt of your email, we aim to respond within a working day with details of the part you need, as well as price and availability - including either a quotation for your acceptance and order, or links to the relevant part on this website.
How can I access technical information regarding the part numbers I need?
We provide multiple search facilities across the website that allow search by established manufacturer part number, product dimension (e.g. Valves, Guides, Oil Seals) and vehicle application for selected product categories. Vehicle application data is provided for a selection of popular (mainly British) classic cars only - noting that we stock parts for many other British and non-British cars, commercial and agricultural vehicles and stationary engines. A selection of data books are provided in [Technical Information] to aid part number identification, though if your make and model are not covered by search application data or in the data books, please email us for assistance with as much application information as possible. On the home page we also offer an engine search facility, that summarises the range of parts stocked for a small selection of popular engines that will be added to over time.
Can I get a discount on my purchase?
We offer a wide range of parts for many vehicles, often procuring small volumes where parts remain available, where it is not possible to achieve a discount. As well as often having to be researched, each of the range of parts supplied has to be individually picked, inspected and prepared for dispatch, hence a discount on these individual mixed orders cannot be applied. Where multiples of certain parts are ordered e.g. 10 sets of a bearing we have remanufactured at a particular size, we may be able to apply a discount – please email for a specific quotation if this criteria applies to your order.
Can I set up a trade account as I plan to make regular purchases?
If you are an established engine rebuilder who is likely to require parts from CEP for frequent engine rebuild projects, then please enquire about opening a trade account. We will review your estimated annual expenditure and depending on level, may be able to set an initial discount that can be reviewed in future considering actual spend. We will usually ask you to prepay a certain number of initial purchases before agreeing to any credit terms.
Can you recommend any engine rebuilders?
We supply engine parts to a large number of engine rebuilders across the UK - some specialising in the rebuild of specific models, others providing services for all types of vehicles. While we may be able to provide you with details of an engine rebuilder near you, it is entirely your responsibility to satisfy yourself that any rebuilder has the necessary experience to complete the work you require on your particular vehicle.